A Healthy Habits Challenge and Diet Plan (that'll help you lose a little weight and change your life forever!)
(Already signed up? Login here)


4.7 (14 reviews) 100 participants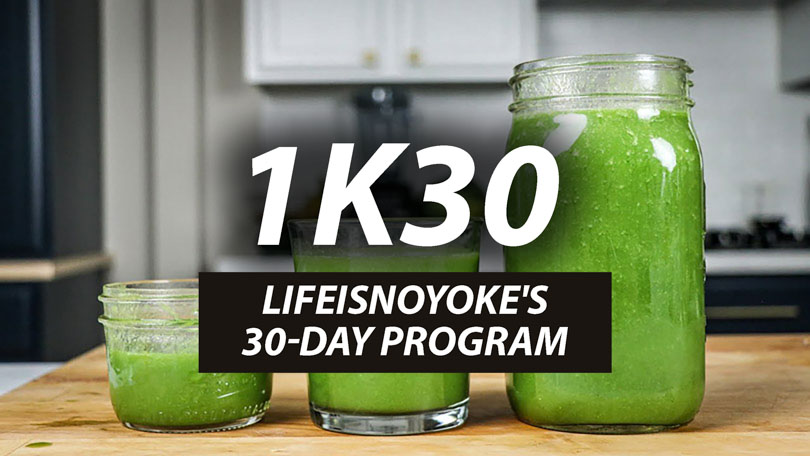 What you'll experience
Quick wins!
Better sleep!
Reduced stress!
Big, little habit changes!
Cooking tasty food with ease!
Being full (without feeling full)!
A simple system that's easy to start!
How 1k30 will help you
Fast results that are easy to get
Confidence with how you look in the mirror
Mental clarity so you can get more done
Energy for your entire day
End confusion around past failures
Win the battle over portion control
Feel better than you ever have
Why this program exists
A Vitamix can help you live a healthier lifestyle. Learn some recipes, make 'em, and you'll look and feel better.
But that's only half of it.
More than mastering the hardware (a Vitamix), you need to master the software (your mind).
In 30 days, we're going to teach you our system of doing both. The LifeIsNoYoke way.
The holistic approach to mind, body, and food that might just get you
Confidence in how you look in the mirror
Mental clarity so you can get more done
Energy so you can jump out of bed and crush your entire day
A 30-day journey towards your promised land.
And all you need is a Vitamix and an open mind.
A little bit about us
This began with me (Lenny) leaving one of my blenders on Shalva's kitchen counter. Fast forward beyond quitting corporate together, getting married, and having three kids, 1K30 was born.
We've been coaching with this system for the last decade. And it's our competing strengths that make it work so well.
I'm a health and wellness expert with a background in accounting and finance. I now eat 99% plant-based, despite my first 30 years as a meat, cheese, and egg fanatic.
Shalva is a pro home cook and an expert motivator with a background in psychology. She's a lifelong, non-strict vegetarian and proud never-vegan.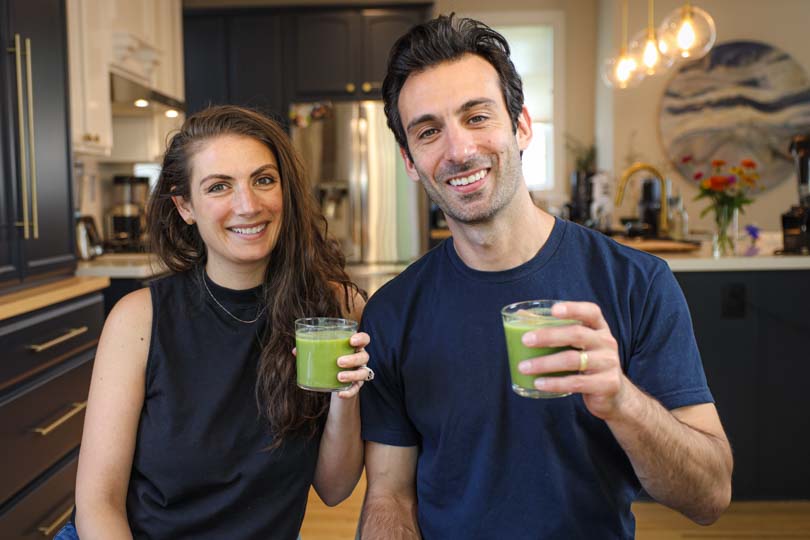 1K30 in a nutshell
1K30 is a 30-day, no-meat, no-dairy, get-healthier-physically-and-mentally challenge. Learn how to use a Vitamix to eat better and build healthy lifestyle habits (that will change your life).
Each purchase comes with unlimited passes for your friends and family. Sign up today to get immediate access to the entire program with Day 0 beginning on Sunday. (All participants move together through the program at the same pace.)
How does it work?
There are three components to 1K30.
1. Program materials
Right when you sign up you'll get immediate access to My1k30, the classroom area to track your progress. And, you get the:
Shopping list
Meal planning guide with over 50 recipes
Secret sauce PDF's (four printable files)
Plus you get four bonus printable files to help with accountability.
2. The Vitamix challenges
There are 15 challenges for you to complete with the help of your Vitamix. They're available to you right away – so you can binge them or wait for each one's introduction by email.
3. The emails
You'll get an email every day for 30 days. You'll get the first email immediately and the next one on Day 0 (which is the Sunday after you sign up).
FAQ's
Time commitment?
You'll need to commit an hour or right away to get groceries and make your plan. Then it's five minutes per day plus any time in the kitchen.
Dietary restrictions?
The recipes and meal ideas are all 100% plant-based. Most are gluten-free or are easily substitutable.
Nut-free folks may have a hard time since so many of the recipes include nuts.
Who is it for?
1K30 is for those who want to live a healthier lifestyle and lose a little (or a lot of) weight.
We made the program with our parents in mind. Why?
They've been a serial diet hoppers their whole lives — on and off with keto for awhile. And as we talk about in the program, keto will kill you from the inside out. (So we desperately wanted a program that would help them quit that forever.)
This is for people who want to try eating less meat. Or want a reason to give up dairy for a month.
This for people who are ready to make a big change in how they look and feel.
(Interestingly, we get a lot of participants who are already healthy but who want the challenge. And, we get many folks who have fallen off the wagon but are using the program to get back on.)
Why is it called 1k30? 
"I would pay a thousand dollars to just…" We gotcha. Just give us 30 days.
Is it vegan?
No. The goal is to eat better and more intuitively, not necessarily be 100% plant-based.
It's no meat, no dairy for 30 days. You're allowed to keep poultry, fish, and eggs as you see fit.
Do you need a Vitamix?
Yes, the program assumes you have a Vitamix. Pick one for this experience if you don't have one yet. (You get fee returns within 60 days in case you want to go back to the blender you had after you're through your 1k30.)
When do I start?
Day 0 (out of 30) is the Sunday after you sign up.
How will this plan get me what I'm looking for?
You can expect some quick wins. You're going to feel better right away.
And over the 30 days, you'll become confident in your ability to make easy, tasty, filling recipes for you and anyone you live with. Plus, you'll build healthy habits that'll replace bad ones.
This program was designed for people who are ready to live a little healthier (for the first time or once again).
Sign up for the program and it will change your life.
And if, within 60 days of using the product to the best of your ability, you decide you're unsatisfied, you can get a full refund, no questions asked. 100% risk-free.
Reviews
★★★★★
Stephen O. (May 2022)
"Very helpful.
The program has been very helpful and getting motivated to maximize the use of my Vitamix. The recipes that you offered. I've been trying. I've been very very good. I recommend to everyone who wants to eat better and more healthfully to look into this program.
—
★★★★★
Sally C. (March 2022)
"I have almost totally eliminated all medications.
Due to health reasons I eat basically a raw food diet of fruits and vegetables curing my severe Ulcerative Colitis. The medications were killing my immune system and quality of life. So I'm a happy girl. This is a lifetime lifestyle for me." 
—
★★★★★
Lynn H. (February 2022)
"LifeIsNoYoke opened my mind.
I now know how to eat better by preparing meals from whole and healthy foods, and that it doesn't have to be time-intensive or difficult"
—
★★★★
Johanna W. (April 2022)
"Thanks for making the 1K30 available.
Thanks for making the 1K30 available. It's important that there are a variety of ways to change one's ways of eating for the better.
While I was already eating vegan, I had hoped that not having sugar (except for birthday cake) and being more aware of what I was putting on my fork would help with weight loss. It didn't, not even a little.
So, it would be helpful to add a proviso for those needing to lose weight, that there may be underlying health issues that diet alone can't address. I am pursuing those more closely now. It also seems as though the 1K30 is for those wanting to make a significant change or the novice who needs a supportive and knowledgeable resource.
I enjoyed the mix of messages: the recipes, the relationship we have with food, our personal motivation and outlook, etc. None of them were over the top too much and all of them were worth thinking about. Too much can become too overwhelming can become discouraging. For those wanting to dig deeper there were links at the bottom of the page.
Your tone was consistently encouraging even when there was a challenging aspect as well. Although I didn't lose weight I still feel positive about the overall experience. That was due to your approach.
What about a refresher course in a year's time for those who have completed this one? Maybe 3 weeks with a specific goal gleaned from other reviews: a set topic with some new recipes two or three times a week. Recipes help stitch the message into life in a delicious way.
Thanks again for creating the 1K30. When people join this program and commit to intentional change it can be so empowering. You'll probably never know how that plays out in a person's life but it's there, it's real, and making everything a bit better.
—
★★★★★
Jim L. (January 2022)
"I'm now in better control of my health.
Seeing those two ID badges side by side pretty much sealed the deal that I could now explore healthier options, at my own pace and for my own reasons.
—
★★★★★
Jeff R. (February 2022)
"The difference in the way we feel is amazing.
We began our journey just over three short months ago. Kim and I are thrilled with our choice to pursue a more healthy lifestyle together." 
—
★★★★★
Shannon P. (March 2022)
"Numbers within ideal ranges!
With his commute and our young family, finding meaningful time for exercise is hard. But it was just the change in diet. Thank you for making this all seem attainable!"
—
★★★★★
Elizabeth C. (March 2022)
"Friendly, approachable, simple, informative, and fun.
Lenny and Shalva are not pushy or militant; they truly want to help others experience the ease and joy that come with living a healthier lifestyle." 
—
★★★★★
Dale H. (April 2020)
"Objectively, all of our numbers are better.
Subjectively, we both have more energy, we both sleep better, we have fewer cravings, and more enjoyable meals. And our weight, our blood pressure, and our cholesterol numbers are all lower!"
—
★★★★★
Michele H. (March 2022)
"LifeIsNoYoke is a lifestyle of healthier living and eating.
Though I will never be a true vegan… eating a more of a plant-based diet lowered my cholesterol levels by 20 points in six months time. Yay!" 
—
★★★★★
Linda S. (January 2022)
"My life is enriched.
I took the easy way out prior to Life is No Yoke, lots of take-out food. Now I prepare healthy food in a flash."
—
★★★
Zorana L. (March 2022)
"I love what you're doing…
I just felt like I knew everything already. But I love your recipes and make them often! Even meat eaters enjoy them!
—
★★★★★
Pattie C. (March 2022)
"With many thanks.
Originally I purchased this program as a thank-you for all the wonderful videos you have put up on YouTube. They have been a great help to me. Having said that, I really did enjoy the program…not so much the program, because I was pitiful at keeping to it, but the emails you sent were really helpful. I read every one of them. They were so instructive and encouraging.
About the program: on the days when I followed the plan, I felt better. A few days I was distracted by family members and events and found myself not taking care of myself as much as I could have and consequently, I felt rather poorly for a few days after falling off the wagon.
Now I am back on the whole food plant-based wagon and hope to be more solid sticking to it. I feel better when I am riding high on the wagon. When I humor family members and have dairy in the house, man, oh, man, is that bad for my body. I ache all over and have a tough time walking. My strategy now is that those who want dairy can buy it themselves and not bring it into the house. I hope I can remain strong on that!
With many thanks. I have encouraged our daughter to sign up. She could benefit also.
—
★★★★★
Rich H. (May 2022)
"Who likes being told what to do?
You know what you need to do to lead a better life — nutrition, sleep, hydration, exercise, and stress reduction.
There's a ton of information out there… so why not use it?
If you don't, it just gets worse. But where do you start? Which information is best?
Information overload actually leads to more stress… binge eating… poor nutrition.
But, what's the solution? We did this:
Thought about leveling up our nutrition
Binged out on the LifeIsNoYolk (LINY) YouTube series
Resurrected our 10-year-old Vitamix blender from the closet
Began our journey toward a more plant-based lifestyle.
But we needed a plan. So many videos/recipes, so little time…
Then came 1K30… The daily emails gave us the structure we needed (i.e., they told us what to do).
Each day's installment was easily understandable with actionable steps. We learned the *how* and the *why*. Plus, there were days devoted to mindset, hydration, and exercise… a holistic approach to living.
Our favorite recipes are queso, broccoli-cheese soup, and Wendy's frosty. Our lactose-intolerant son-in-law loved them all!
If you're looking for a life with better nutrition, increased confidence in how to use your blender, and more recipes in your repertoire, then 1K30 is just for you.
Each day you'll get an email with something new to implement into your lifestyle.
Not overwhelming. Just the right size.
Relish being told what to do!
__
Get 10% off your first order
Sign up for email updates to get 10% off your first order from LifeIsNoYoke.
__