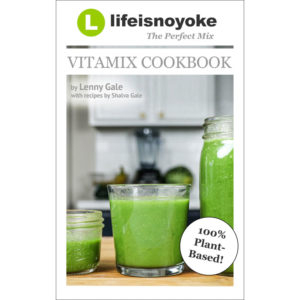 The Perfect Mix v3.0.1
75 Vitamix recipes (that'll make you say "wow!")
7 Vitamix pro-tip guides
3-step system for healthy eating habits (that stick!)
The Perfect Mix v3.0.1 is our four-years-in-the-making, ever-evolving Vitamix Cookbook. Buy it once, and you'll get free lifetime updates.
When you get the book, you get instant access to every version: PDF, HTML, MOBI/Kindle, and EPUB/iBooks.
___
What other people are saying
These recipes changed my life. I feel better than I've ever felt and I feel like I'm eating savory, filling food (as opposed to eating like a malnourished rabbit). I would have paid $30 for this book. — A. Love
You guys have inspired me to move towards a healthier me….. I think I just need a bigger nudge in the right direction!
– Rita M.
"My husband has had to change his diet over the years, things just not settling right; so he's pretty much 100% plant-based diet at this point. Your book couldn't have been a better addition to our new lifestyle."  -Lauren L.
Great go to recipes to simplify your transition into a plant-based diet. For me Lenny's sense of humor and simple approach have made it easier to continue on my vegan journey returning to more simplistic recipes and not getting frustrated with over complicated recipes. — Marcy P.
I have a Vitamix and this book is perfect to remind us just what this machine can and why what it does is so important – to our health and to our lives. Thank you to the authors for making something that is so easy to read but packed with information. THANK YOU! — Tami T.
Enjoying my Vitamix again! This book is awesome! I had a Vitamix collecting dust on my counter. This book has inspired me to enjoy my Vitamix again. — Andrew J.
Love the energy of this book and the simplicity of the process….just need to start with day one, smoothie number one and continue from there!! Wish a few recipes were included and perhaps a background on their health, wellness and weight loss journey!! — Lisa K.
Great book! Great food! Great vitality! I love the clear, simple, no-nonsense way this book is written.
It gets right to the obstacles to and opportunities for eating a delicious, healthy diet that provides energy for active living.
Also, I love the way it starts with easy basics and progresses to a complete diet for healthy life. — John W.
Information quick read! This book really motivated me to head downstairs to my Vitamix. I struggle with getting motivated to use my Vitamix to all it's potential. I use it frequently for the handful of LifeIsNoyoke recipes I've mastered, but needed this read to decide to kick it up a notch. — Alana M.
A motivational and informative read on how to get healthier with a Vitamix! I liked how this book was laid out in easy steps to start the process of easing into a plant-based lifestyle using a Vitamix. It was Interspersed with great recipes to try. Lenny pens a realistic approach, starting out slowly, helping you to understand the reasons why it's so hard to implement the change we all want. — Rob G.
FAQ
Is there a printed version available. Hardcover or paperback? 
At this time, it's in ebook format only. This allows us to treat the book like software and continually deliver updates. (Hopefully someday we'll offer a printed version, and when we do, we'll let you know: Keep me updated.)
Notes from Shalva and Lenny Gale @lifeisnoyoke
Hi there,
Few notes for ya as you're considering our ebook.
1. You get lifetime updates (new recipes, life hacks, etc) with your purchase.
Why?
Think of it like software. We're continually working to make this book better, and when we do, you'll get an updated version automatically for free.
As such…
2. If you have feedback, suggestions, or spot errors, please let us know. Again, the goal is to make this book as helpful as possible.
And finally…
3. If you've purchased this book and for whatever reason are not 100% satisfied, please email us, and we'll refund your money no questions asked. hello at lifeisnoyoke dot com